Facebook Business Page Tips
Facebook page tips:
Before we start looking at Facebook business page tips, take a step back and consider the following:
Have you made the commitment? Like any other form of marketing, social media is a challenge. It's not easy to create great content, increase engagement or grow an audience. It's all down to good planning, a good social media strategy and what you hope to achieve.
Why do your followers follow you? Do you show enough of your personality online through your social media or do you talk at people? A great social media presence is about connection and experiences. Creating content which creates conversation will MASSIVELY help you with Facebook's algorithms, in other words creating engaging content gets pushed higher up the news feed, the higher up the news feed you go, the more people you're exposed too!
Have you experimented with Video marketing? Video social media marketing is easily becoming the most cost-effective way to market your company beating external links and even photos. If you haven't started running video campaigns, start. Now!
Listen, don't promote – Facebook is not one-sided, it's a chance for you to spend more time engaging with your customers, than 'shouting' at them. Do you answer questions, address reviews, react to comments?
Success follows hard work – According to one of the biggest social media management companies in the world, BUFFER, it takes up to 8 months of hard work to get to a point where you feel good about your social accounts… Post content that you're truly passionate about to avoid burnout. Your content doesn't have to be directly related to your brand or even your industry. Just remember to keep it fresh but most of all, enjoy it!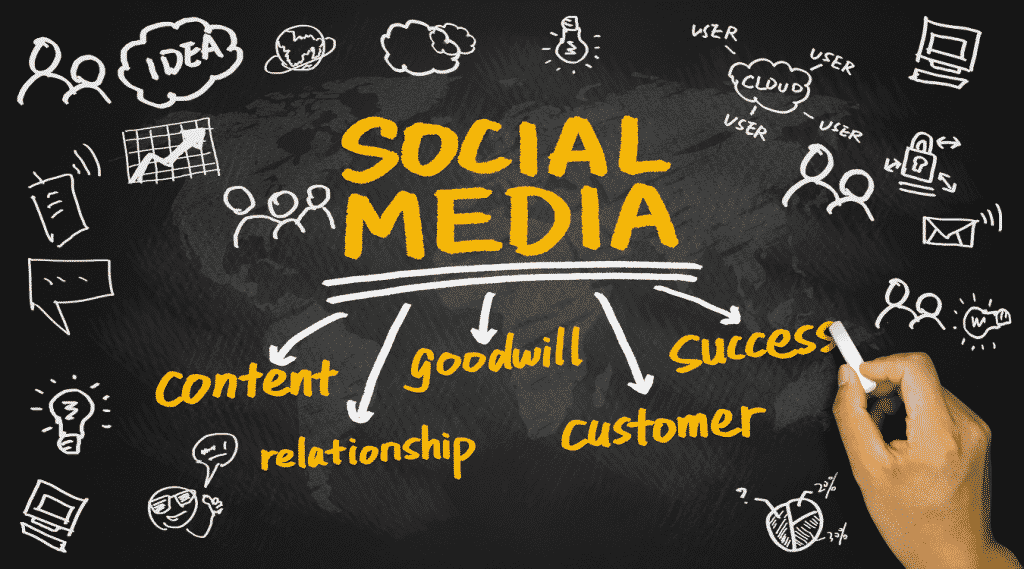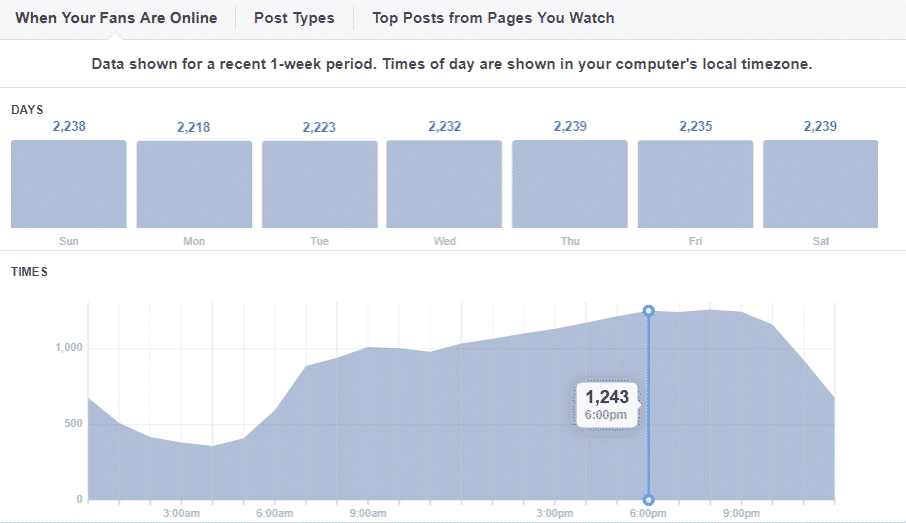 Facebook Business Page Tips #1
When is the best time to post on Facebook? Something we're constantly asked by businesses just getting to grips to Facebook and a valid question too!
Start by posting each day at various times and keep note of which post receives the most reaction/engagement. After 2 weeks of posting on various mornings, afternoons or evenings you should start to see a correlation between times you post and higher engagement rates. For further help head to the 'Insights' tool available at the top of your Facebook page, under 'Reach' you'll find the best time to post on Facebook, you can see to the left that our client's best time to post would be on average between 6 – 9pm so we would regularly post around 7pm.
Facebook Business Page Tips #2
What's the best type of post for Facebook? A question wondered by many businesses so here's number 2 of our Facebook business page tips.
As mentioned previously, videos are number one. With a 6.93% higher engagement rate than any other type of post, most marketers are recommending video marketing. It really is the way forward. However, you can find out yourself judging from your previous posts whats best for you, find your page's best 'post type' found under 'Posts' on the 'Insights' tool.
The majority on Facebook seems to be as follows:
Videos
Photos
External Links
Text posts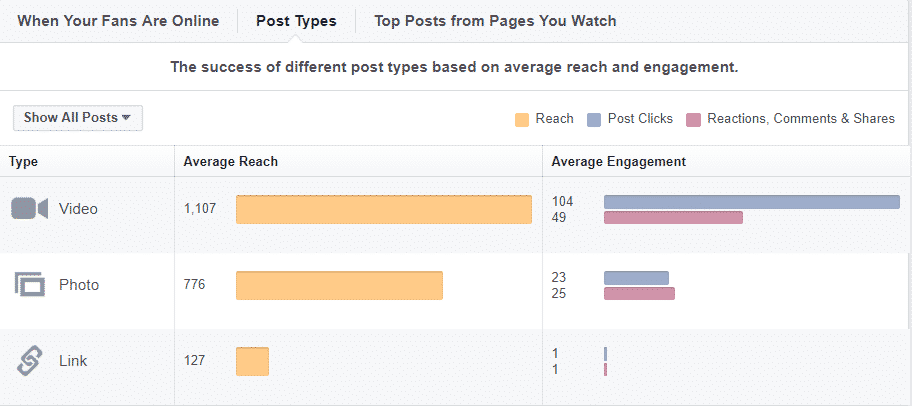 Facebook Business Page tips #3
What are Facebook Algorithms? Although Facebook provides us with 'insights' it still judges and ranks posts using a series of algorithms, these determine how many people will see your posts and how long they stay in the audience's news feeds for. This is used by Facebook to encourage more businesses to use paid advertising so don't be too disheartened if your posts don't reach full potential and achieve full organic reach – it's rare. Anyways here's number 3 of our Facebook Business Page Tips.
Facebook algorithms work in your favour best when they see your posts are 'generating conversation', although not known officially, experts believe the algorithm works best when the following occurs:
A person shares a link you've posted over 'messenger' to a friend
Multiple replies to comments on the post, photo or video
Comments or likes on a page's photo or status update
Engagement on a page's post shared by a friend. 
Our best advice is to create engaging posts that are likely to result in your audience liking, commenting, and sharing with their friends.
Once you've posted on your page, the next step is to use a series of personal accounts to react to the post followed by sharing it. This boosts your posts organic reach by pushing it in front of a new audience. The more accounts with more friends you have to react & share, the bigger the organic reach / audience, so we've found.
Facebook Business Page Tips – See the difference in just a few months
Following the above and with an occasional boost using Facebook advertising we transformed our client's Facebook page into a busy social media account. As you can see from our before and after photos, there reach, clicks and post engagement grew dramatically.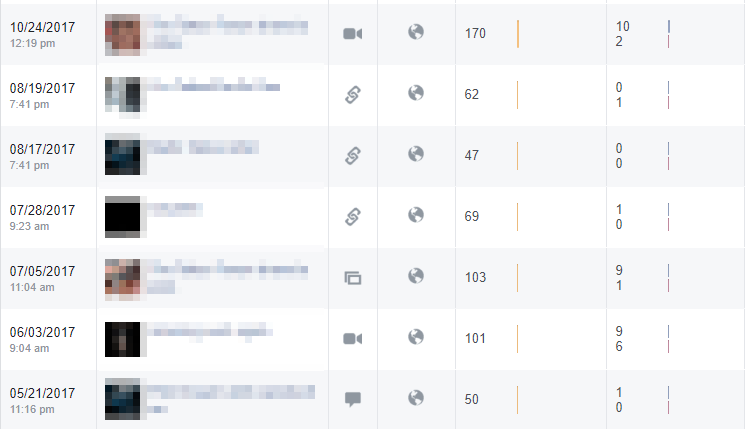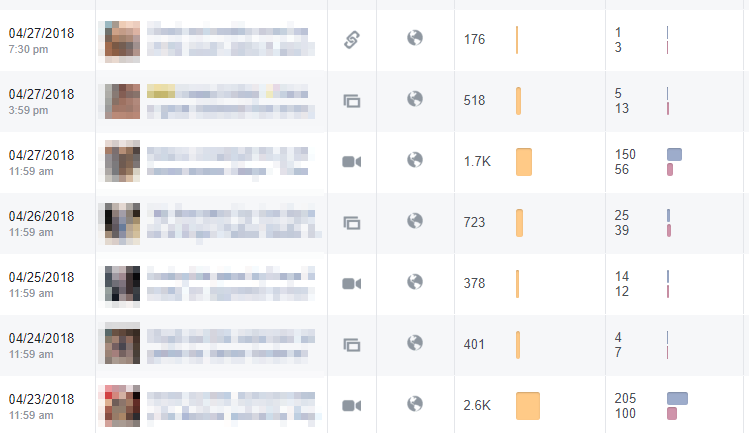 Posting sporadically, not providing enough engaging content and not interacting with followers are common mistakes, hopefully, by following our Facebook Business Page Tips and Tricks above you start to see the difference but if you're looking for further help or simply find this too overwhelming then please give us a call and we'll be more than happy to discuss our various social media packages.
You can reach us on 01922 455 566 or by emailing info@coffeeblack.co.uk